Industry Spotlight: Tissue and Towel Converting
Take a moment to learn more about our tissue and towel converting products and services.
International Knife and Saw is a leading provider of industrial knives and blades for a variety of industries, including:
Paper converting
Printing and graphic arts
Packaging and food
Steel production and metal processing.
Tissue and towel conversion.
The purpose of this new blog series is to give you an in-depth look at each of the main industries we service as well as the products we offer for each specific industry. With that said, take a moment to learn more about our tissue and towel conversion(converting) division and the products/services it offers customers.

Top Notch Tissue and Towel Converting Products
Our tissue and towel converting division has built a reputation as one of the best in the world and it's a distinction we strive to maintain. We offer a wide variety of products for the tissue and towel conversion industry, including:
Log saw blades
Grinding wheels
Log Saw Grinding Systems
Tissue perforating blades
Core cutter and packaging knives
Circular slitter knives.
View all of our tissue and towel converting products.

Our reputation didn't earn itself-- we employ only the most skilled saw smiths to craft our blades and knives. In addition, we use only the highest-quality material in the construction of our products, ensuring you receive nothing but the best blades with each order.
IKS specializes in the manufacturing of Jumbo Roll Tissue (JRT) and Towel Log Saws in a variety of standard and custom sizes. All JRT blades are crafted from high alloy D-2 steel, adhere to rigorous quality guidelines, and maintain a maximum lateral run out of .006". In addition, we offer a patented Nickel Boron plating that greatly increases the amount of cuts each blade is capable of making while vastly improving cut quality.

Dedication to Quality Manufacturing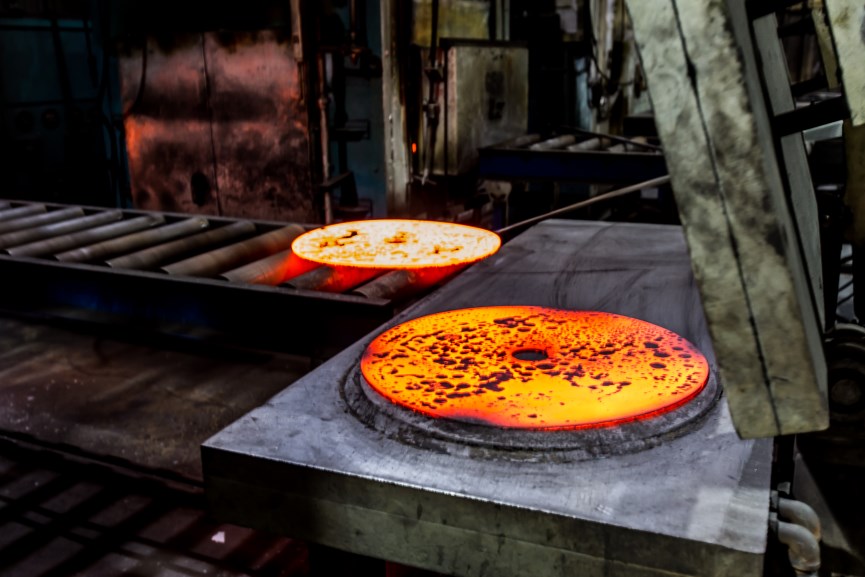 Our saw smiths follow a very specific processes to ensure customers receive the absolute best blades possible with every order:
Each blade undergoes a controlled triple tempering heat treating process to ensure uniform blade hardness and flatness
Blades undergo grinding/beveling operations at close tolerance to obtain precise run out and exact parallelism.
Saw smiths perform tension and axial run out tests on each blade, with a guaranteed maximum lateral run out of .006" T.I.R (exceeding industry standards while greatly prolonging blade life).
Once each blade has met the stringent quality requirements of our expert saw smiths, it is packaged with a final inspection certificate verifying its quality and is then shipped to the customer.

Unmatched Technical Service and Training

In addition to providing our customers with the finest blades and knives for the tissue and towel converting industries, IKS offers ongoing training and support to help customers make the most of their cutting tools. Our technical support team travels globally to assist customers in implementing the IKS Quality Cut Program (QCP), a training system designed to help customers improve production, safety, and quality standards. Contact us for more information on scheduling a trial and training event.

When you partner with IKS you receive more than just a quality product—you receive the support necessary to make the most of your investment. Please contact us with any questions about our products, services, or capabilities. We look forward to working with you to improve your operations.